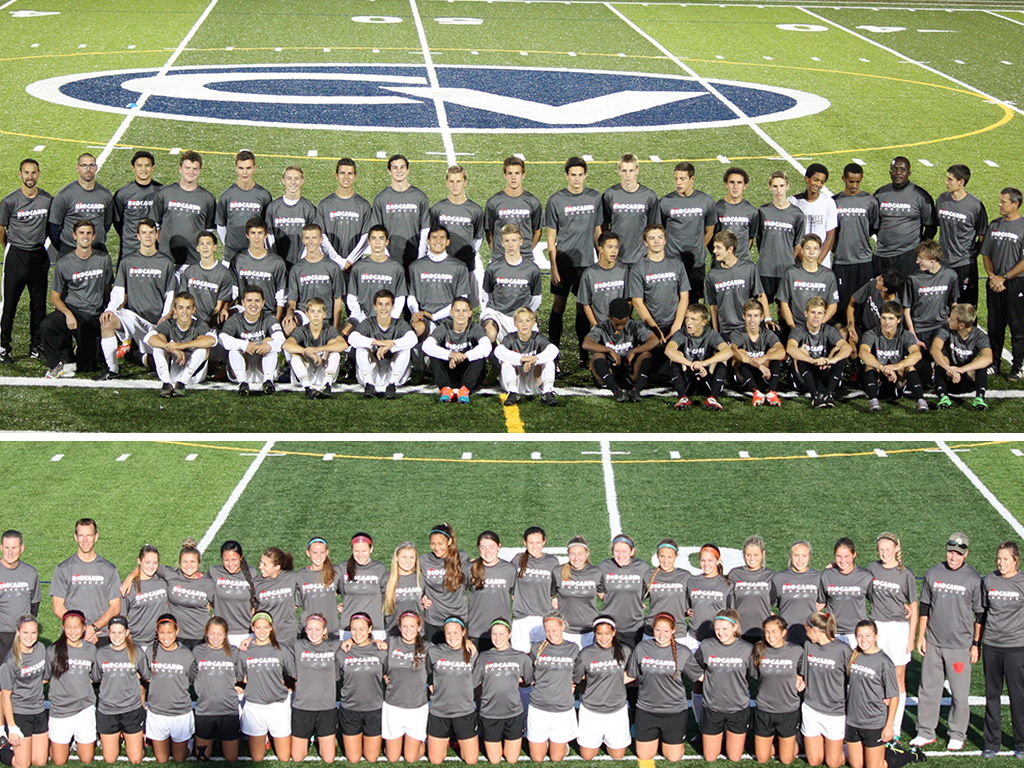 For Dave Hartlaub, the head soccer coach at Conestoga Valley High School, supporting cancer research was a clear choice. Having lost loved ones to cancer, and grown up with his mother working as an oncology nurse, Coach Hartlaub is no stranger to the impacts that cancer can have on patients, families, and communities. After learning about Red Card Cancer (RCC) through his longtime friend – and RCC founder – Paul Payne, the decision to support the work of the dedicated clinicians and scientists at the Johns Hopkins Kimmel Cancer Center was obvious. All that was left was to decide how exactly to get involved.
In what Coach Hartlaub describes as the intersection of "the battle on the field, as well as the battle off," the Conestoga Valley soccer teams decided to host four games, the boys and girls teams for both JV and Varsity, at one school in one single weekend, bringing members of the Conestoga Valley community together with that of a rival team at one "soccer festival." When Coach Hartlaub approached rival teams to work with towards this goal of sending cancer off the pitch, the enthusiasm was unanimous.
For the past two seasons, the Conestoga Valley players have begun gearing up for the big event during the pre-season, working closely with Angelo's Soccer Corner to have customized t-shirts designed as part of the fundraiser. All of the coaches also start spreading word about the event during the off season, each committing to finding five $100 sponsors whose logos are then featured on the t-shirt. When game time arrives, the players all warm up in their custom t-shirts and participate in a ceremony recognizing those whose lives have been touched by cancer, further cementing the importance of the work they have done all season to make this event happen.
While most of the legwork happens beforehand – the event itself is all about the games! –donation buckets set out at the event allow for one last opportunity for friends and family to give. Ultimately, much of Conestoga Valley's success comes from the fact that the goal isn't for people to give all season long, but to focus their support within the two-day soccer festival. By forming a solid game plan for the event before the season even starts, Coach Hartlaub and the boys and girls teams thoroughly achieve this goal – last year's event yielded over $2,700 to support critical advancements in cancer research.
According to Coach Hartlaub, "As a soccer coach and a full time teacher, my time is limited in the fall. But if you want to make this a priority, it is possible and worth it." In fact, the value of Red Card Cancer extends beyond the dollars raised – events like this one are incredibly opportunities for players to not only improve their game, but learn about giving back beyond giving it their all on the soccer field.